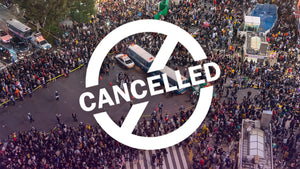 "Shibuya Halloween Party Ban 2023: Raising a Glass to Responsible Celebrations"
The Halloween spirit is upon us, and even though the legendary Shibuya Halloween parties have been banned in 2023, there's still plenty of spooky fun to be had! In this article, we'll explore creative ways to celebrate Halloween responsibly, with a touch of class and a lot of delicious spirits. We'll be featuring a selection of some fantastic products that you can incorporate into your celebrations, including spirits like Spritz & Giggles Sparkling, Sir Real, Purple Paradise, Suite Petite, and Pink Pedals, as well as a selection of Stone Brewing's finest craft beers. What's more, we have an exclusive Halloween promotion campaign just for you!
1. The Spooktacular Spritz & Giggles Sparkling


To kick off your Halloween celebration, try Spritz & Giggles Sparkling. This effervescent delight is perfect for a Halloween toast with your friends. Its light, fruity notes will set the mood for a night of ghoulish fun.
2. Mysterious Mix with Sir Real
Sir Real, a mysterious and versatile spirit, is ideal for concocting bewitching cocktails. Create a "Sir Real Elixir" with black vodka and a splash of this intriguing liquor for a hauntingly good time.
3. Purple Paradise Punch
Purple Paradise, with its vibrant hue, is perfect for crafting a spooky punch. Combine it with your choice of fruit juices and some dry ice for an eerie, bubbling concoction that will amaze your guests.
4. Suite Petite and Pink Pedals for the Evening
These delightful and light spirits are perfect for sipping throughout the night. Whether you're chatting with friends or hitting the dance floor, Suite Petite and Pink Pedals offer a refined and elegant taste.
5. Stone Brewing's Craft Beers
If beer is more your style, Stone Brewing has you covered. Choose from their diverse selection, including Stone IPA, Stone Hazy IPA, Stone Buenaveza Lager, Stone Imperial Stout, Stone Imperial Notorious P.O.G., and Stone 27th Anniversary Lemon Shark Double IPA. These high-quality brews can provide a fantastic alternative for a Halloween party with a different flavor palette.
The Halloween Promotion Campaign - Use Promo Code 23BOO
To make your Halloween celebrations even spookier, we have an exclusive promotion campaign just for you. Use the promo code "23BOO" at checkout and enjoy a 10% discount on all the items mentioned above. It's our way of adding a little extra magic to your Halloween, whether you're indulging in wine or craft beers.
While the Shibuya Halloween party ban of 2023 may limit traditional outdoor gatherings, it's an opportunity to explore new and responsible ways to celebrate. Incorporating Spritz & Giggles Sparkling, Sir Real, Purple Paradise, Suite Petite, Pink Pedals, and Stone Brewing's craft beers into your celebrations will ensure that your Halloween is both safe and unforgettable. Remember to enjoy your spirits responsibly, and let's raise a glass to a spooktacular and classy Halloween! Cheers, and don't forget to use promo code "23BOO" for that extra treat!
---